Io, Io, Io!
Le regole del gioco
2013-10-20 09:46:20
A tris s'impara presto a giocare.
Due vicini di banco scelgono un simbolo tra croce e cerchio e lo dispongono a turno in una griglia 3X3. Chi allinea in orizzontale o diagonale 3 dei propri simboli vince.
Sulla carta la posizione centrale permette un maggior numero di condizioni di vittoria (due diagonali, una verticale ed una orizzontale) e, dopo poco tempo, diventa la posizione preferita dove giocare la prima mossa.
Col tempo, pero', si scopre che - se giocato con una particolare strategia - il tris non offre alcuna sfida: e' possibile, considerando alcuni pattern base di disposizione dei simboli, vincere sempre o pareggiare.
Per semplicita', nel linguaggio comune, queste tre considerazioni vengono identificate con la parola regole.
La prima e' una regola del gioco che, se violata, invalida la partita rendendola nulla e, se seguita, ne ufficializza l'esito.
La seconda e' una regola di buon senso che, se violata, riduce il numero di condizioni di vittoria e, se seguita, ne aumenta le probabilita' ma non l'assicura.
La terza e' una regola vincente che, se violata, riduce il numero di condizioni di vittoria ma, se seguita, assicura in ogni caso che non si raggiunga la condizione di perdita.
Nel corso della vita ci si confronta con centinaia di regole e le circostanze spesso non ci concedono il tempo di capire di quali tipologie siano: a volte ci si ritrova a violare le regole del gioco, rendendo vano tutto cio' che si e' costruito, a volte si crede di seguire una regola vincente ed invece e' solo una modesta regola di buon senso che non assicura nulla ed a volte s'incontrano vincenti in ogni caso che si spacciano strateghi di valore, che hanno solo scoperto dove il gioco sia rotto e che hanno tutto l'interesse nel mantenere il vantaggioso status quo.
Il saper riconoscere con quali di queste regole ci si stia confrontando e' vitale e tale coscienza la si raggiunge soltanto coltivando un personale e sensibile senso analitico e critico, che richiede cosi' tanto tempo per svilupparsi da poter coprire soltanto uno o pochi dei mille mondi regolati e mutevoli della vita.
Il mio contributo? Per quello che ho potuto valutare nella mia vita non esiste una regola vincente che regoli il senso critico. E, fortunatamente, nemmeno una regola del gioco. Esistono solo regole di buon senso e c'e' soltanto un altro mondo estremamente affine a questa situazione: il percorso per la ricerca del proprio senso critico in un particolare ambito coincide con quello della ricerca artistica. Siate, quindi, artisti nel vostro campo.
Sopratutto voi, nel mondo dell'IT.
~ . ~
Lazy Jones Pocket
2013-06-05 20:37:50
Ahh... Blast from the past. Just retrived a Lazy Jones (Link) remake I've made in 2001 and not-so-originally called Lazy Jones Pocket.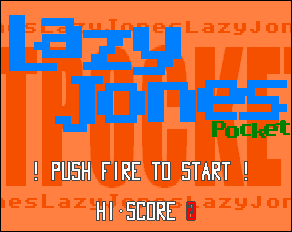 Just Windows binary and no Delphi sources but it works surprisingly well under Wine. Fire button is space. Download here: (Link)
~ . ~
GTV is like Git-TV
2013-04-03 21:38:58
Gamecora TV (Link) and the whole JSTV Suite (Link) is now on GitHub (Link) in order to make patch publishing faster - especially for Aggro.
Now you can checkout Aggro and use it for testing via a custom not-committable configuration file. It should make easier to work on it and commit everything blindly without committing the whole cache directory and personal Twitter keys, hash salt values etc.
Yesterday evening I've also improved z-index handling in title screen and textstreams and RSS feed parsing due to bug reports - RSS from gaming scene are using any type of standard and not-so-standard :)

Anyway, everything is there now. Have fun!
~ . ~